Public Business Directory
Browse Alphabetically ABCDEFGHIJKLMNOPQRSTUVWXYZAll
Teagan & Co. Petcare
Submitted by: Wentland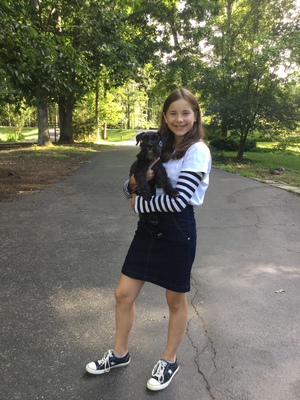 17-year-old Teagan Wentland has been professionally caring for others' pets and farm animals for over 5 years with her family. We board dogs in our home, or visit your animals in your own space (within ten miles of our home in Nokesville, VA). Boarding rates start @ $30/day for a single dog; $15/visit for domestic pets; $25/visit for farm work. We are so pleased to have dozens of satisfied repeat customers, keeping us busy year 'round!

Five Golden Years as "Teagan & Co. Petcare" have meant caring for a total of at least 85 chickens, 47 dogs, 21 cats, 16 goats, 15 ducks, 8 geese, 7 domestic birds, 6 cows, 6 rabbits (besides our own three), 5 horses (including minis), 3 guinea hens, 3 quail, 4 guinea pigs (besides our own six), 2 donkeys, 1 tukey, 1 peacock, multiple box turtles, and our very own chickens & dog, too!!

Find us on Facebook or our website (to be updated ASAP), and let us know how we can help (especially dogsitting in our home). We treat your animals as if they were our own!
Contact: 9202 Keyser Rd., Nokesville, VA 20181 | Cell: 703-861-8221